*This blog contains no affiliate links and any photos not taken by me will be annotated as such
Introduction
My wife and I have vacationed around Europe for years and after visiting almost every major city, hiking the Alps and road tripping down the Autobahn, we've discovered our favorite type of vacation is completing a long-distance cycling route. To be clear, this isn't some Ironman event, it's a somewhat leisurely bike ride on a dedicated cycling path along Europe's most picturesque rivers. The bike paths themselves are mostly car-free and will take you very far outside of the typical tourist areas of Europe. This picture of a section of the Elbe cycle path illustrates the basic situation: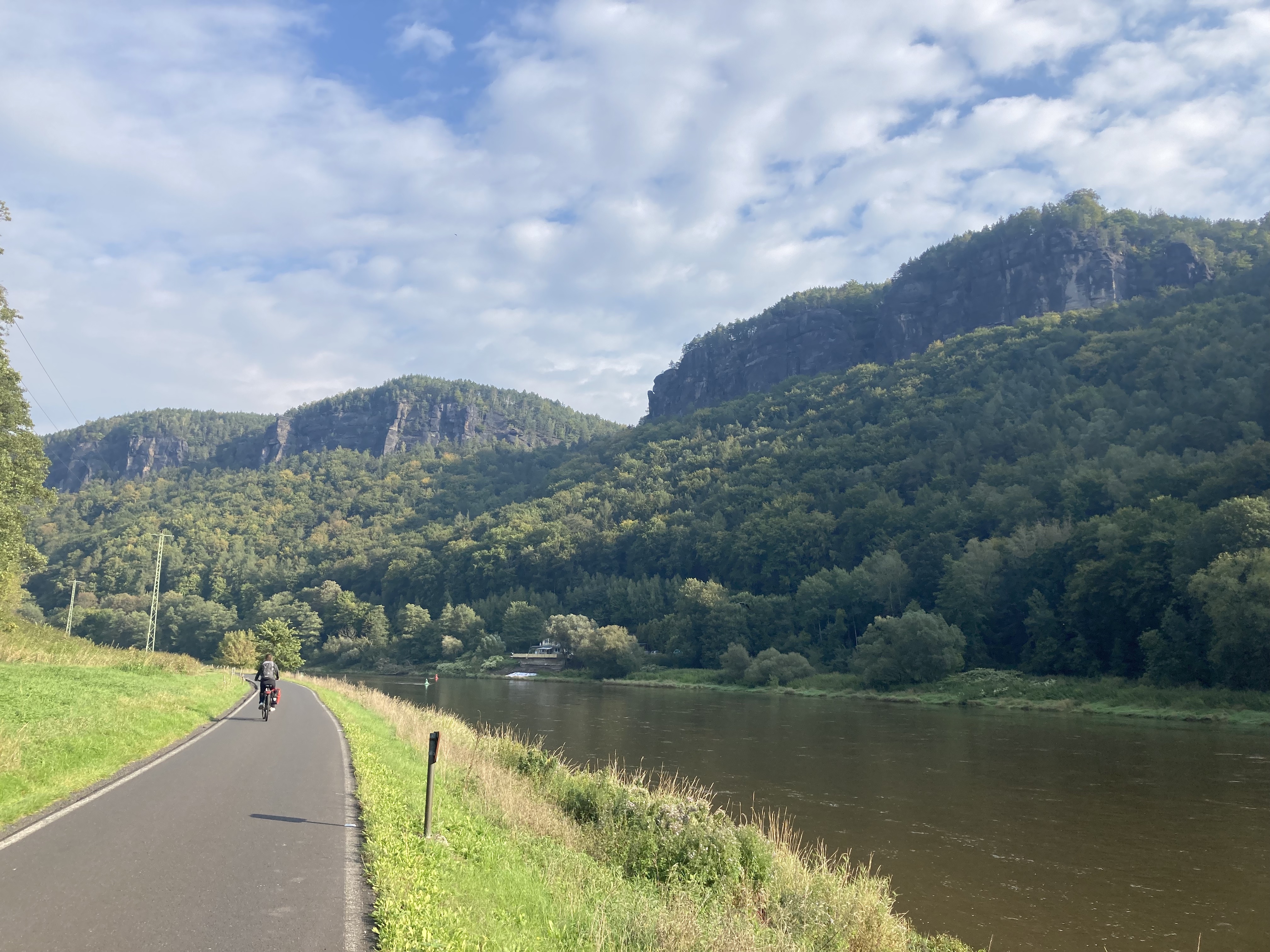 Elberadweg (Elbe cyle path) somewhere in Saxony, Germany
While the rivers run hundreds of miles across the continent, we cycle subsections of them. In this case, during September of 2022, we cycled from Prague to Dresden along the Elbe cycle path (or Elberadweg). The entire trip took about 8 days, including stopping a couple days in various cities for hiking excursions, and covers about 200 miles of bike path. This series of blog posts documents our adventures and gives travel tips along the way.
Preparation
We've always done self-guided tours. Meaning, we buy a guidebook, research the route online, book our own hotels/restaurants and plan the entire trip ourselves. There are companies who will do all of this for you, along with providing many other conveniences, but it's much more expensive and you'll have less freedom to change your itinerary. For now at least, we prefer to do all of the planning ourselves. It's a lot of work, but you can really customize the trip and save a ton of money. The following sections detail our hard won knowledge and experience for preparing for a long-distance cycling trip.
Choosing a Bike
There's a reason choosing a bike is the first topic in preparation. You can be spending upwards of 8 hours a day sitting on this thing, and I've learned from very painful experience, that choosing a good one is absolutely critical for a good bike trip.
First of all, I recommend renting a bike once you get into Europe. You can bring your own if you live locally, but if you're coming in by plane it will be prohibitvely expensive to stow it as checked luggage. Note that there are many types of bikes available to rent, and some are more preferable than others. My favorite is the hybrid trekking type, but others (especially older folks) swear by the e-bikes.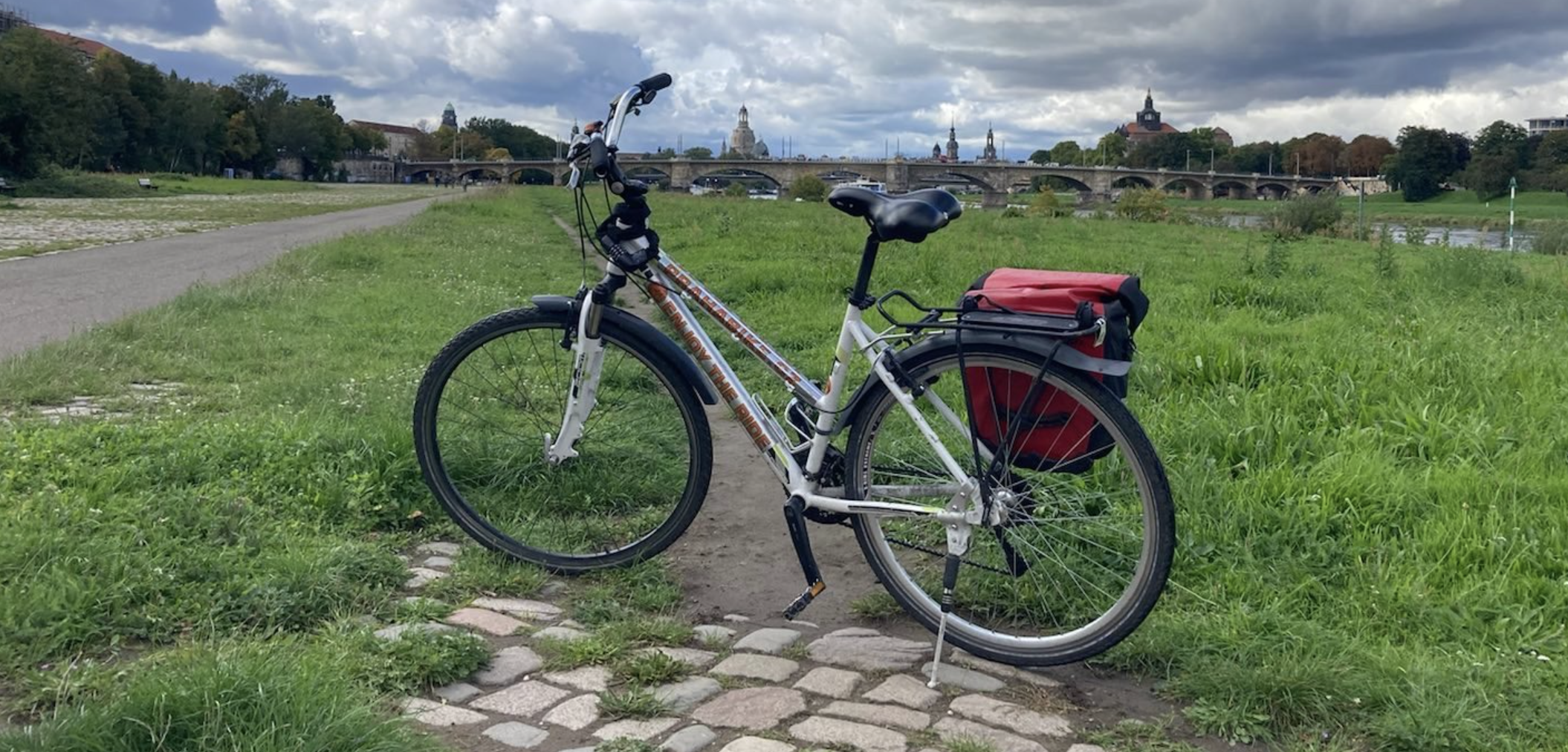 The hybrid-trekking bike used on this trip
The features of the hybrid trekking bike are summarized here. Note the center bar (top tube) of the bike in the image above and how it slopes downward instead of going parallel to the ground. This is a standard feature on both male and female bikes (the idea of a gendered bike is nonsense!), and it makes getting on and off the bike much easier. After riding a bike with a lower top tube, I can't go back to a straight one. Also, it's crucial that you get a bike that doesn't use a backpedal braking system...trust me on this one, they are very bad for long distances and multi-day trips. One last thing to look for is adjustability. Although the bike rental company should fit you beforehand, it can be really nice to adjust the seat and handlebars as you go along.
For cycling the Elbe, I highly recommend renting a bike from Praha Bike. The folks there will ensure you have everything you need before setting out and make sure your bike is properly fitted. They also offer a pick up service in Dresden, that way you don't have to buy a train ticket for your bike whenever you come back to Prague. Lastly, they will hold your luggage at their office in Prague so you can store your larger airline luggage if necessary. For instance, because we spent a couple extra days in Prague, we had some extra clothes that we wouldn't need on the bike trip, so we stowed them in our hard luggage cases at the bike store.
This is our third bike trip we've done and previously we had only used a couple of backpacks for storage during the trip. This time, because of the colder weather, we had to pack more layers. The helpful guy at Praha Bike saw our overstuffed backpacks and recommended we rent a pair of waterproof paniers to use (the red bags shown in the image above). These things were a lifesaver and really saved our backs during the trip.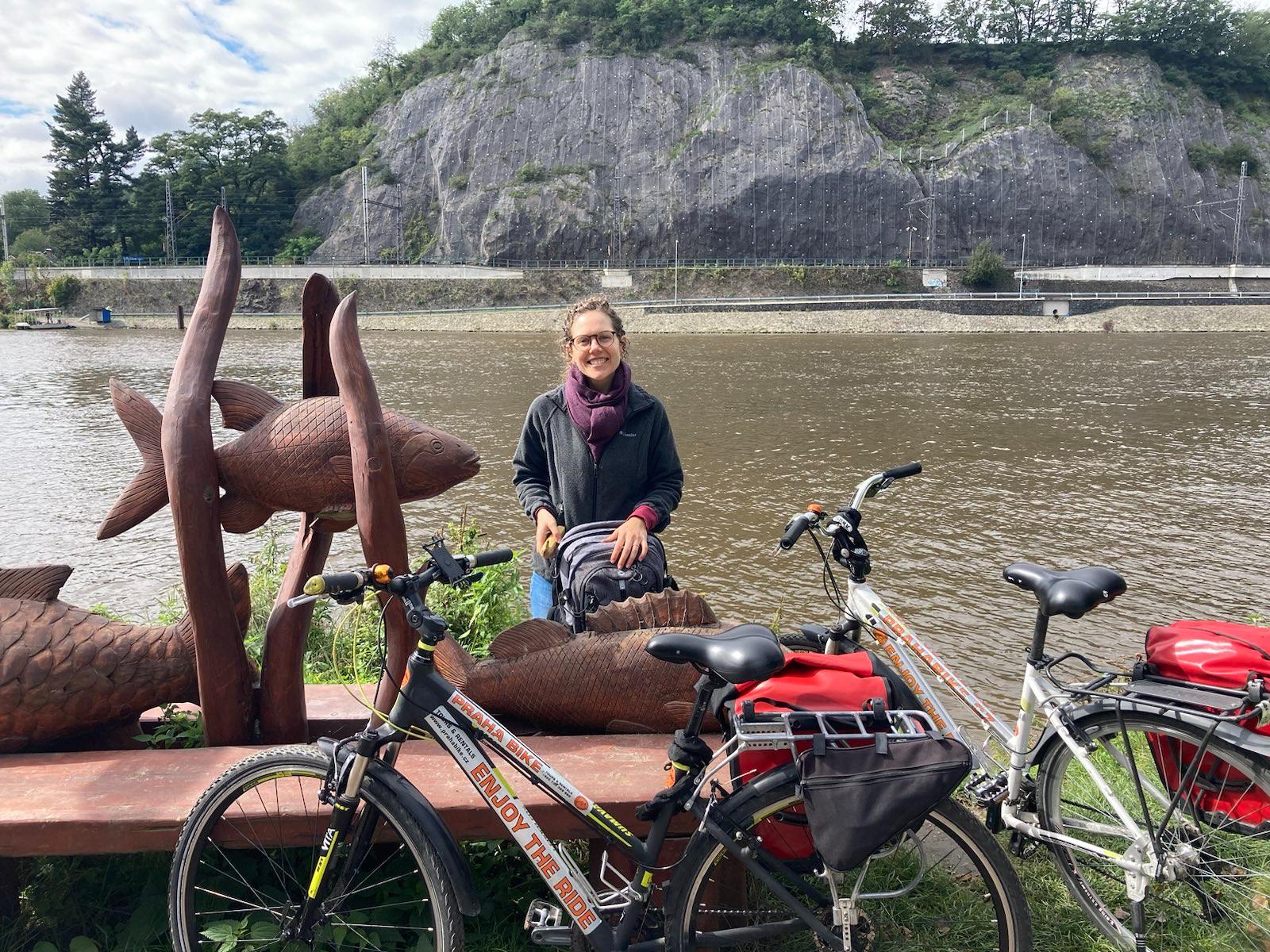 Stopping for a quick snack break a couple hours outside of Prague
Packing List
Besides the essentials of socks, underwear and toiletries, here's a few things to bring that may not be entirely obvious.
Guidebook: You'll need a guidebook, full-stop. These routes aren't really documented online and the signage on the route is just okay. The guidebook will recommend which side of the river you'll need to be on and will typically come with a GPX file that you can load onto your phone. Here is the one I recommend: Elbe River Trail 1

Bike Phone Holder: This can also be rented (for little to no extra charge) from your bike rental company. It's not that the routes are poorly signed, it's that you'll want to do a gut check from time to time to make sure you haven't wavered off the path. Although you mostly follow the river, you'll often have to go through farmlands and small villages. Having a route easily accessible makes life much easier.

Backpack: Even if you have paniers, bring a backpack. It'll come in handy for a variety of situations.

Quality Poncho: The big kind that will also cover your backpack. You'll look like a hunchback if you end up wearing it, but from experience, you'll really want this if you run into bad weather.

Sunglasses: self-explanatory, but these are a must

Sunscreen: see above

Layers of clothing: I recommend dressing in layers, the weather changes frequently and I've found literally every layer comes in handy. I typically wear long pants, a t-shirt, a thermal shirt and a rain jacket. Also, note that if you're biking for 7 days, you don't necessarily need 7 changes of clothes. Certain hotels and inns will have laundry facilities; otherwise, you can bring a bit of detergent to wash clothes in the sink and dry them on the heated towel racks, check your hotel.

Portable Battery Charger: I've never had to use mine, but I wouldn't do one of these trips without it. Sometimes the bike path will be miles away from the nearest town and your phone will be your only lifeline if the worst were to happen, make sure you have a backup charger!

Bike Repair Kit: This is another essential that I wouldn't go without. You can typically rent a repair kit from the rental company so remember to inquire with them beforehand. At a minimum you'll need tire patches and a bike pump. Note that bikes have various shapes of air valves, so if you bring one from home it may not fit the valve on the bike you are renting. I recommend just getting one from the bike rental company.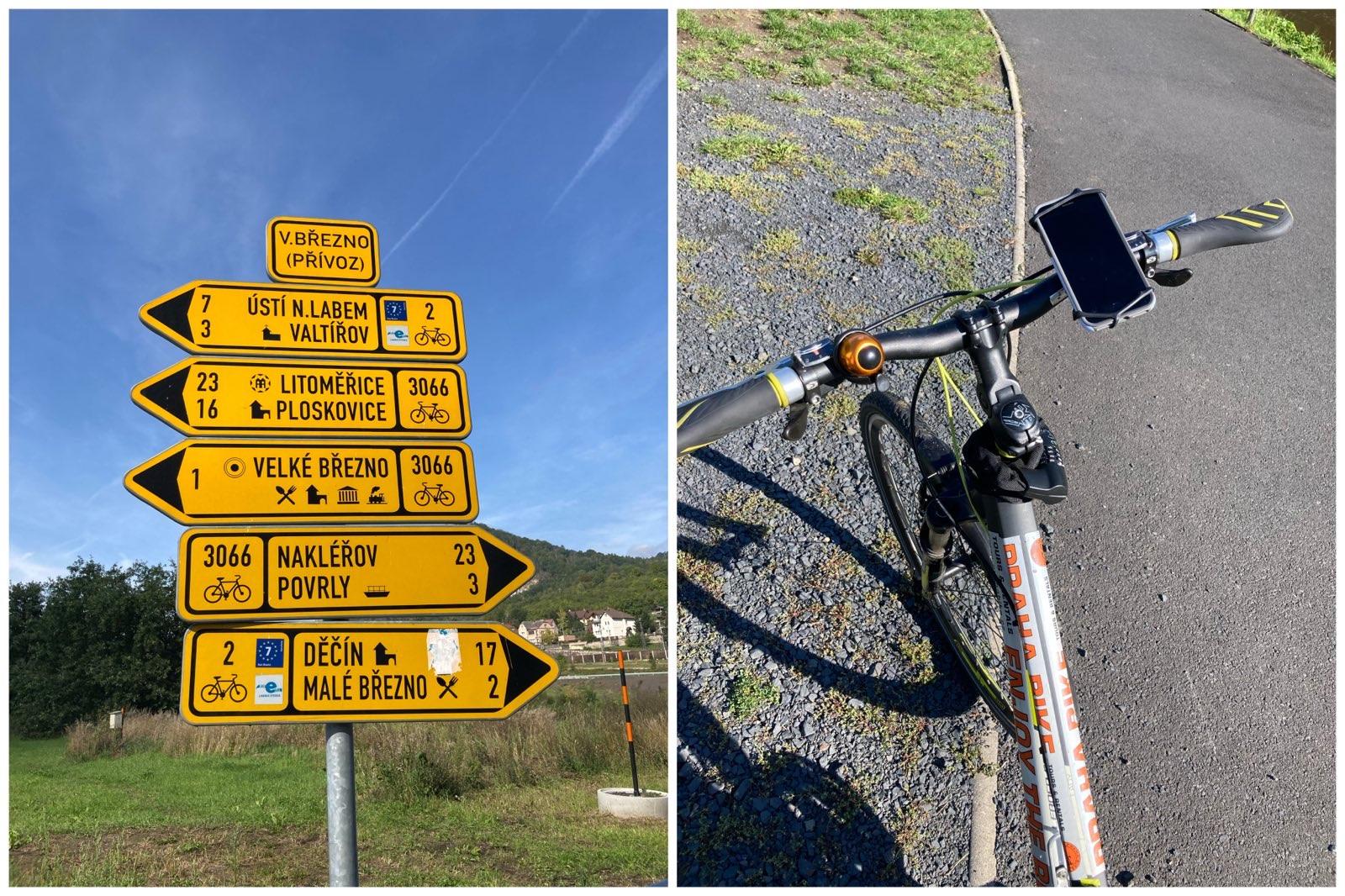 Example of signage (left) and bike phone holder (right)
Some Notes on Packing and Trip Timing
Generally speaking, I like to pack as light as possible. If you have too much stuff, it'll be painful to unpack and dig through it every night. Echoing the advice above regarding layers, check your hotel and see if you can get a hotel in the middle of your trip that has laundry facilities (I'll recommend at least one later in this series). Here are some other tips that we've found helpful:
Plan this trip for the shoulder seasons (May or September in particular). The weather is typically quite mild during that time of year and prices on hotels will be lower (not to mention less crowded).

Bring 3 pairs of pants: 1 for riding, 1 for going out to dinner at night, 1 for hiking (this should be a lighter pair and you can also use these for riding).

Change only your innermost layers. In other words, only change your socks, underwear and t-shirt every day. You shouldn't be getting terribly sweaty out there if you go during the shoulder seasons (it's much cooler), and your outer layers can air out a bit during the day.

Only bring a single pair of shoes, preferably a pair that looks good both cycling, hiking and for going out at night (my wife and I both wear Adidas tennis shoes for this).
Tips for Planning a Self-Guided Bike Tour
I don't like the idea of riding around with a tour group and being beholden to a strict schedule, so we always plan trips ourselves. This also gives us the freedom to make modifications to our plans mid trip if we deem it necessary or just for fun! Planning a long distance cycling trip takes time, lots of time, but I think it's worth it. We typically start planning the trip at least 2 months in advance.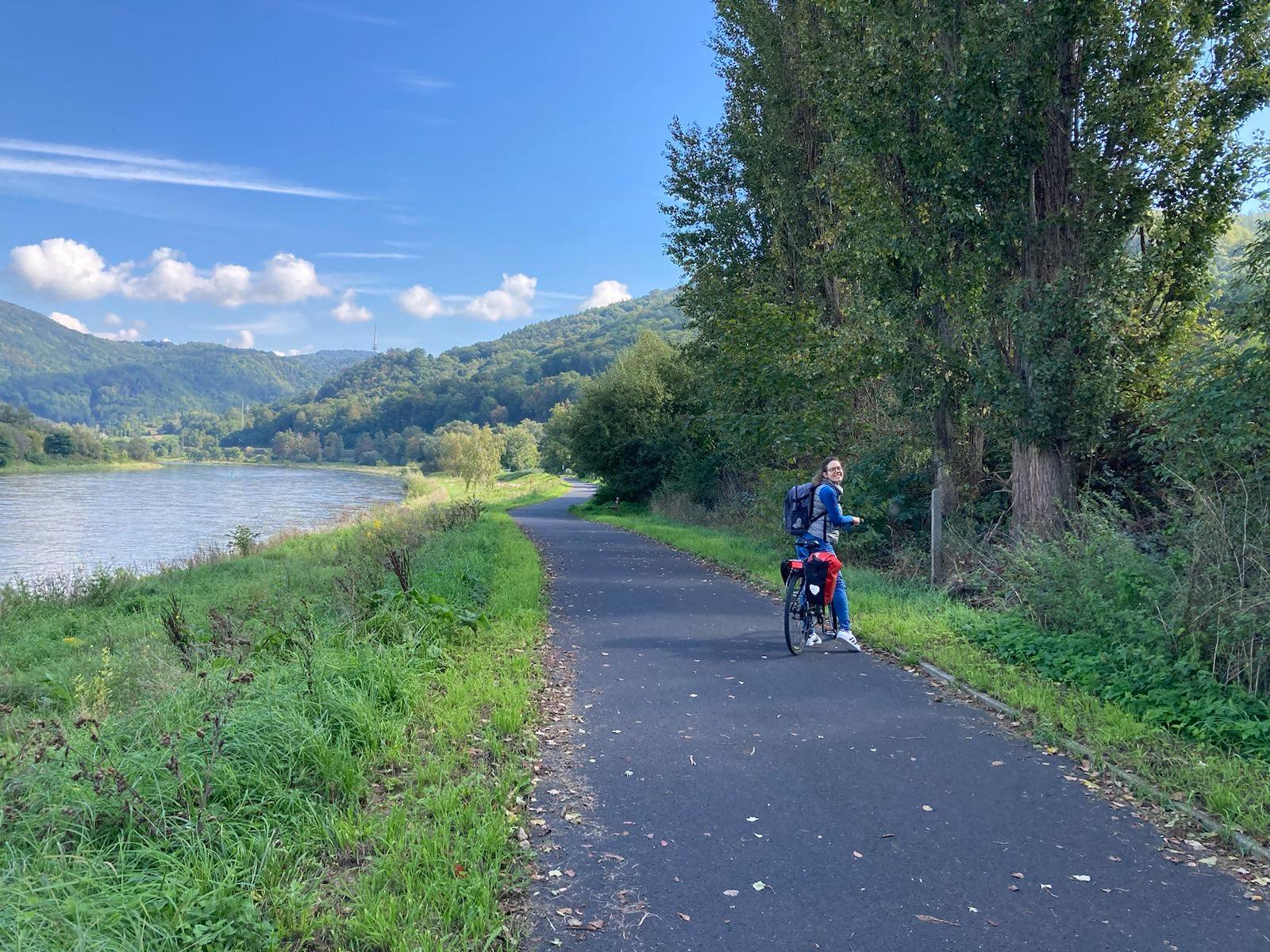 Elberadweg, approaching Děčín, a Czech resort town.
The first step is to figure out a general outline of your trip, as in, how long the trip will last and what places you will be laying your head every night. I recommend performing some cursory Google searches about the bike path to figure out where the big tour groups are stopping, and use that as a jumping off point. For example, I found this Elbe cycle route itinerary from eurobike.at and then cross-referenced those stops with my guidebook to figure out where we would be stopping each day. The guidebook will also highlight various excursions you can do, and you can plan the distance you will be traveling each day accordingly.
Once you figure out what places you will be staying, go ahead and book hotels. Note that hotels can be fully booked even during the shoulder seasons, so use this as a final gut check for your itinerary. Last but not least, you will also want to make an effort to book dinner reservations each night. Some of the towns you'll travel to have weird opening hours for their restaurants (like being closed Sunday and Monday), and a reservation ensures you'll have a hot meal at the end of the day. I can't stress this enough even though it sounds silly to Americans: make dinner reservations or risk not being able to find a decent meal.
Last but not least, don't try to plan the entire trip in one sitting! Do it over the course of a week or two. It's overwhelming looking at all the various options for hotels, restaurants, excurions, etc, and you'll hit decision fatigue very quickly. We like to write a general outline of the trip, and then aim to book one hotel and restaurant a day until the whole trip is planned.