*This blog contains no affiliate links and any photos not taken by me will be annotated as such
Prague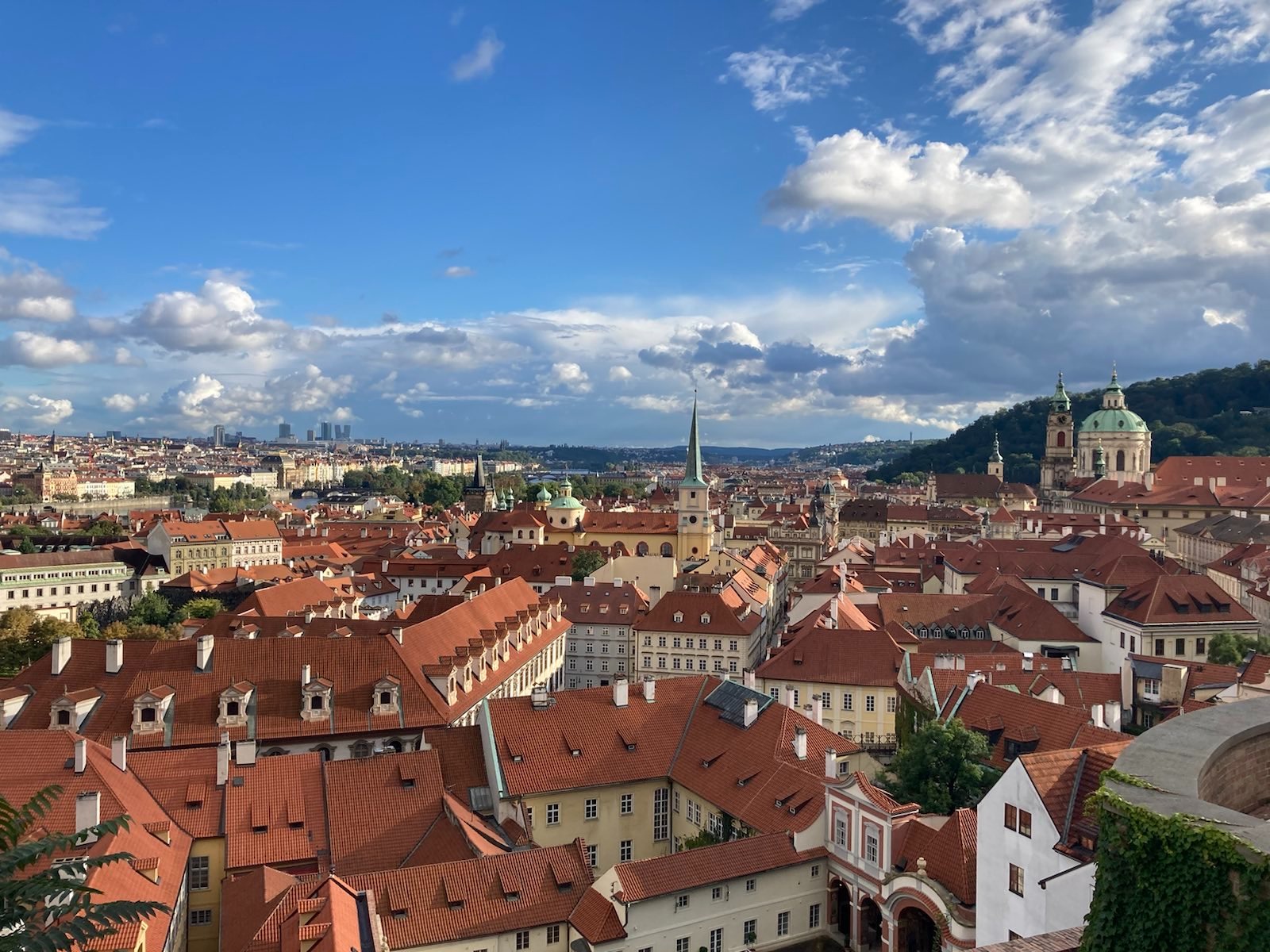 View of Prague's Malá Strana (Lesser Town) on the west side of Vltava River.
Prague is the capital of Czech Republic (or Czechia) and in 2021 was voted the most beautiful city in the world. The city is truly steeped in history, and it's atmosphere is quintessentially "European." I've been to many cities in western Europe, and Prague's elegance is unmatched. Almost every building is a work of art: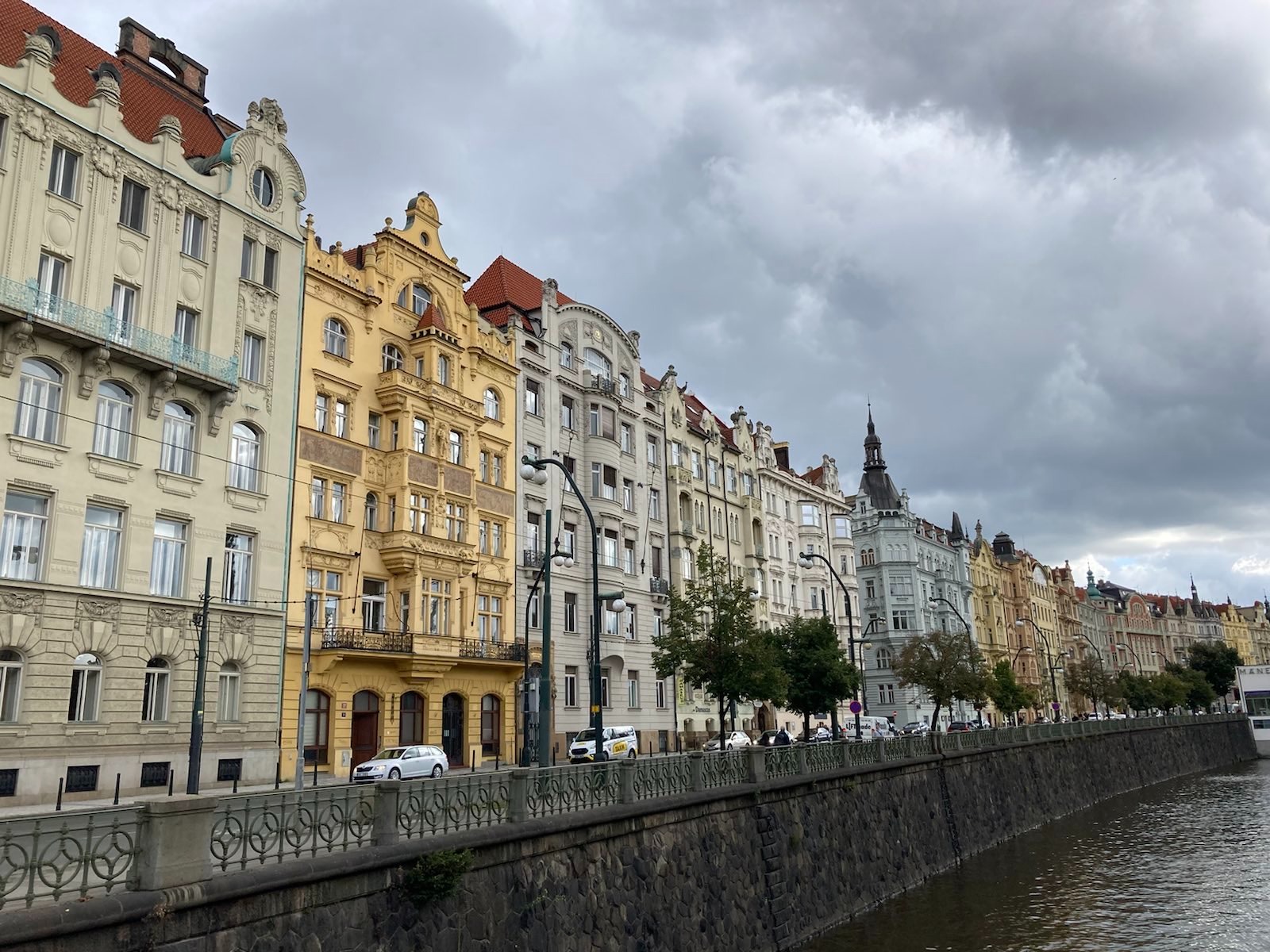 Zoom in and check out the detail on these buildings which permeate almost every corner in Prague.
What's unexpeced is that this architecture exists far outside the city center. While most cities in Europe have a beautiful city center and get more and more drab the further out you go, Prague's architecture is consistent even in the suburbs: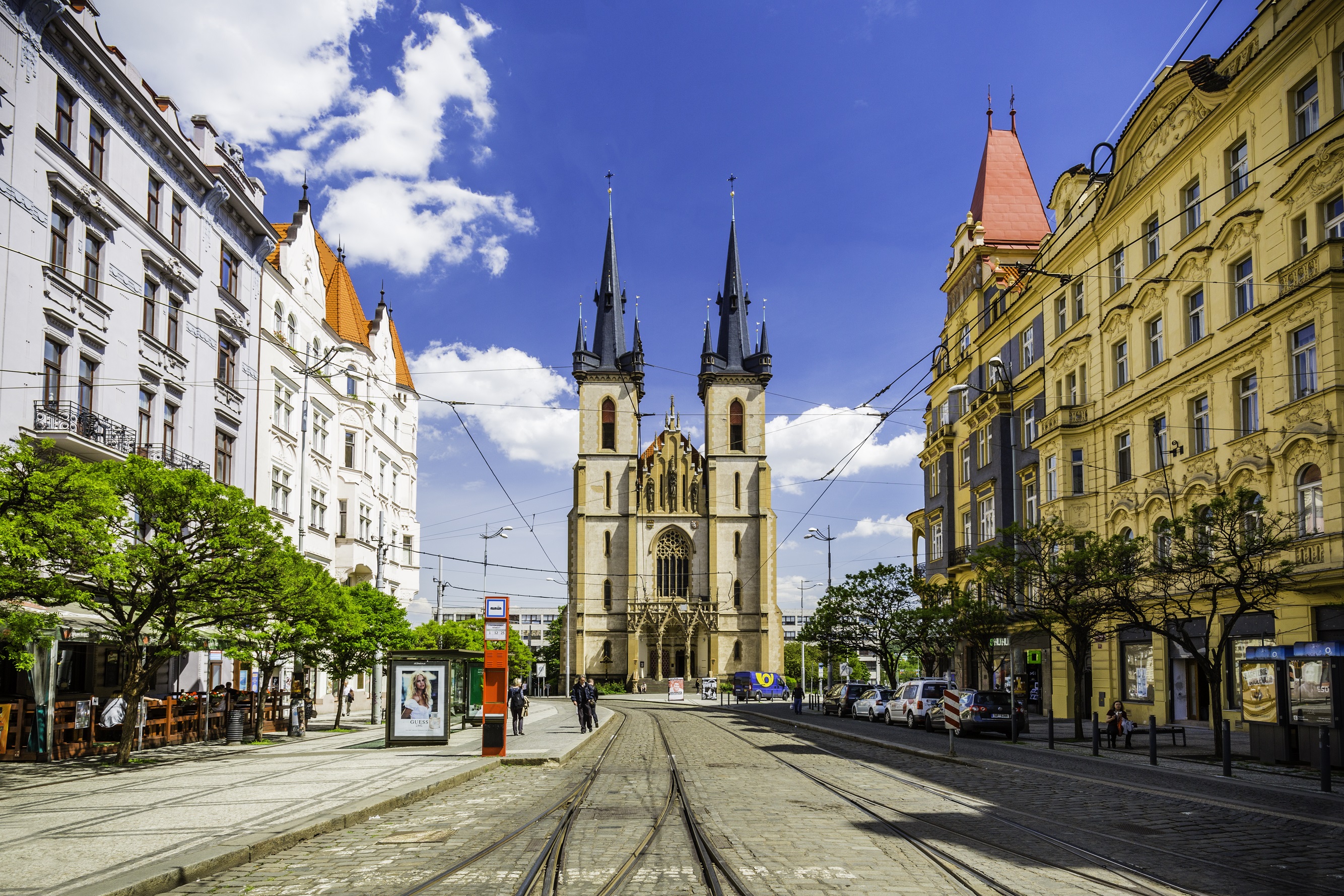 Holešovice, a northern suburb near the start of the Elbe cycle path (image courtesy of prague.eu)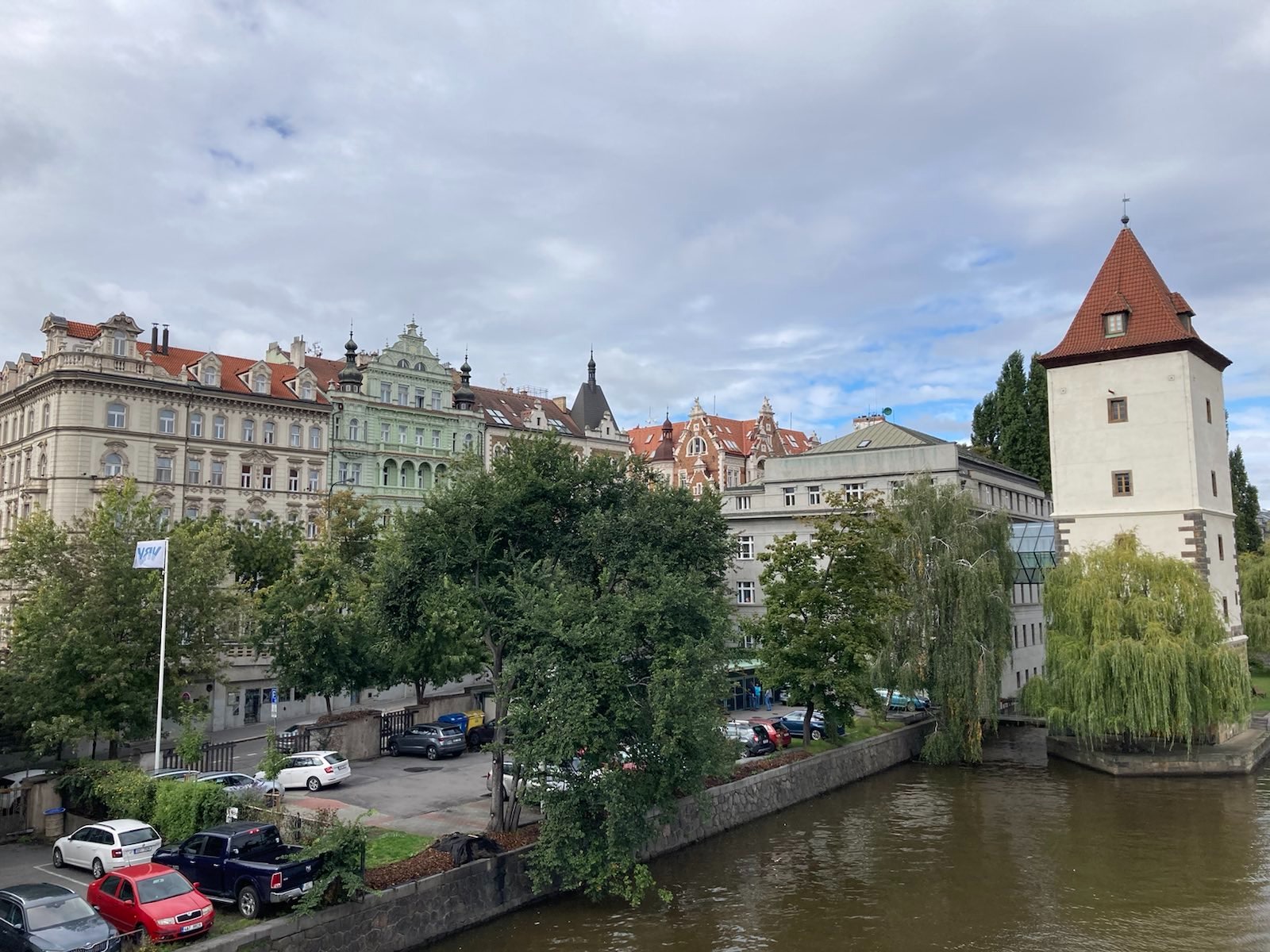 Smíchov, western suburb with a great mall
Prague is our starting point for our Elbe cycling trip.We would only stay a couple days to get over the jetlag, grab our bikes and start down the river.
Easy Arrival
We arrived by plane at the international Václav Havel airport just outside of Prague. This was our second time visiting the city, so I had a decent idea of how to get around. The first time we visited we just used the public transit system along with a dirt cheap 72-hour ticket, but this time we wanted a bit more convenience and booked a driver through a service called Welcome Pickups for around $30, and they took us directly to our hotel, Pure White. Your money goes further when you book a hotel outside the city center, and this hotel was about a 30 minute walk from the center of Prague's old town.
How to Tour Prague
If you want a top 10 best places to visit in Prague, go check out the Honest Guide on Youtube. What I want to describe here, is what I believe the best way to experience Prague, namely:
Walking!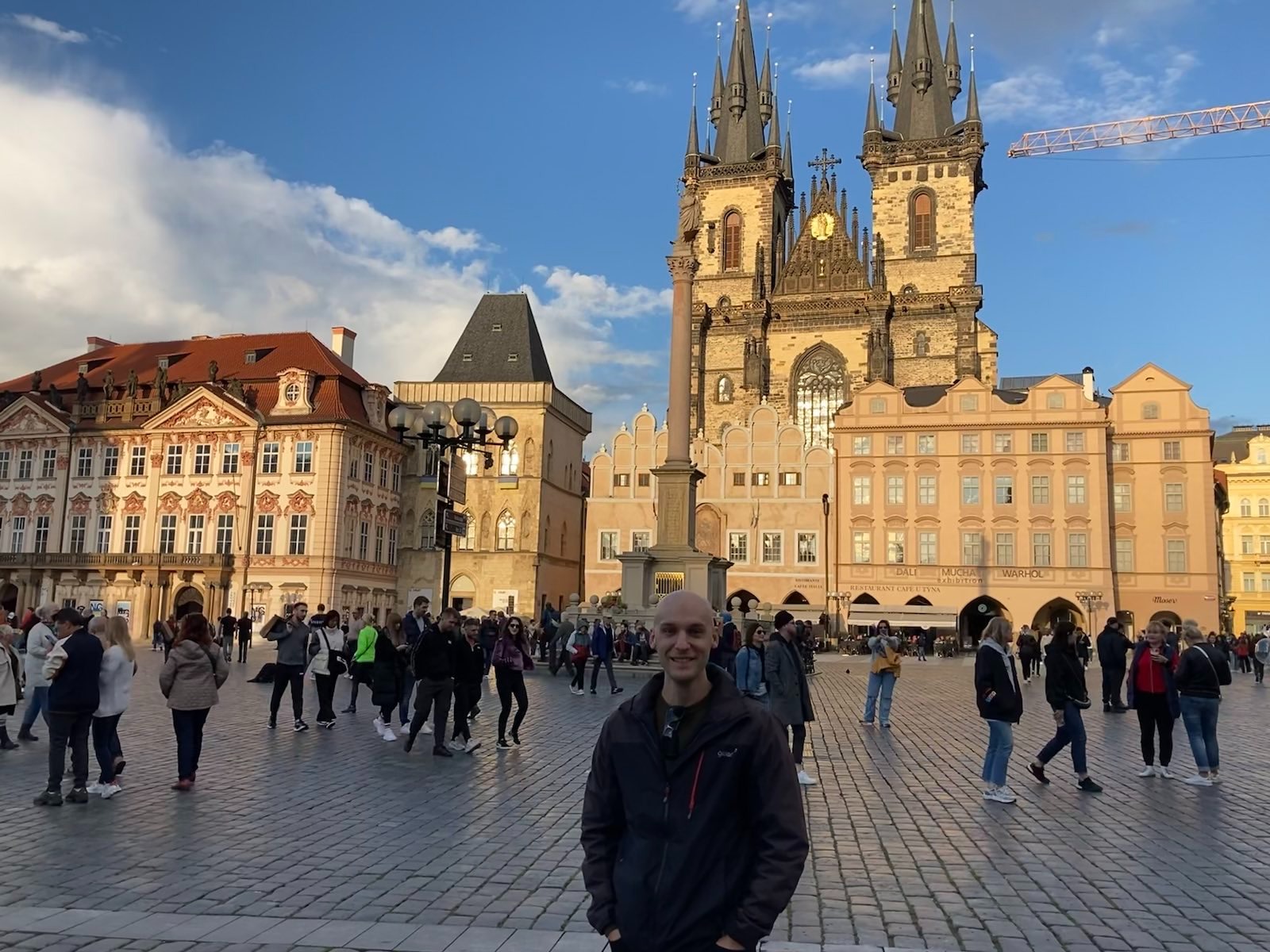 Center of Prague's old town square with the Church of Our Lady in the background.
Prague is a relatively small city. You can walk the entirety of it in a single day. It's important that when you walk, you wander. There are tons of side streets, old cathedrals and hidden artwork throughout the city. If you see something interesting, go investigate. You may be surprised how many doors will open. In addition to the freedom of being able to stop anywhere you like, the best part is that walking is free! Note that Google/Apple maps can get you by, but I've found that maps.me and mapy.cz have much better offline walking routes. This is especially useful if you don't plan to use your domestic SIM card while in Prague. The following routes are some of my favorite to walk, and they will get you acquainted with the city:
Prague Astronomical Clock to Prague Castle via Charles Bridge

This is a classic walk from the center of the old town, across the famous Charles Bridge to a hilltop overlooking the Malá Strana (Lesser Town) on the west bank of the Vltava river. Before leaving the old town, take time to explore the two cathedrals in the town square, St Nicholas and Church of Our Lady, in addition to the ever-curving side streets which permeate this district. Note you'll be tempted to buy things here, but I don't recommend purchasing anything more than a cup of coffee. While beautiful, everything is touristic and overpriced in this area.
Full disclosure, the last leg of this walk is a long uphill section, but it's worth it! Be sure to stop at all the lookouts and take great pictures: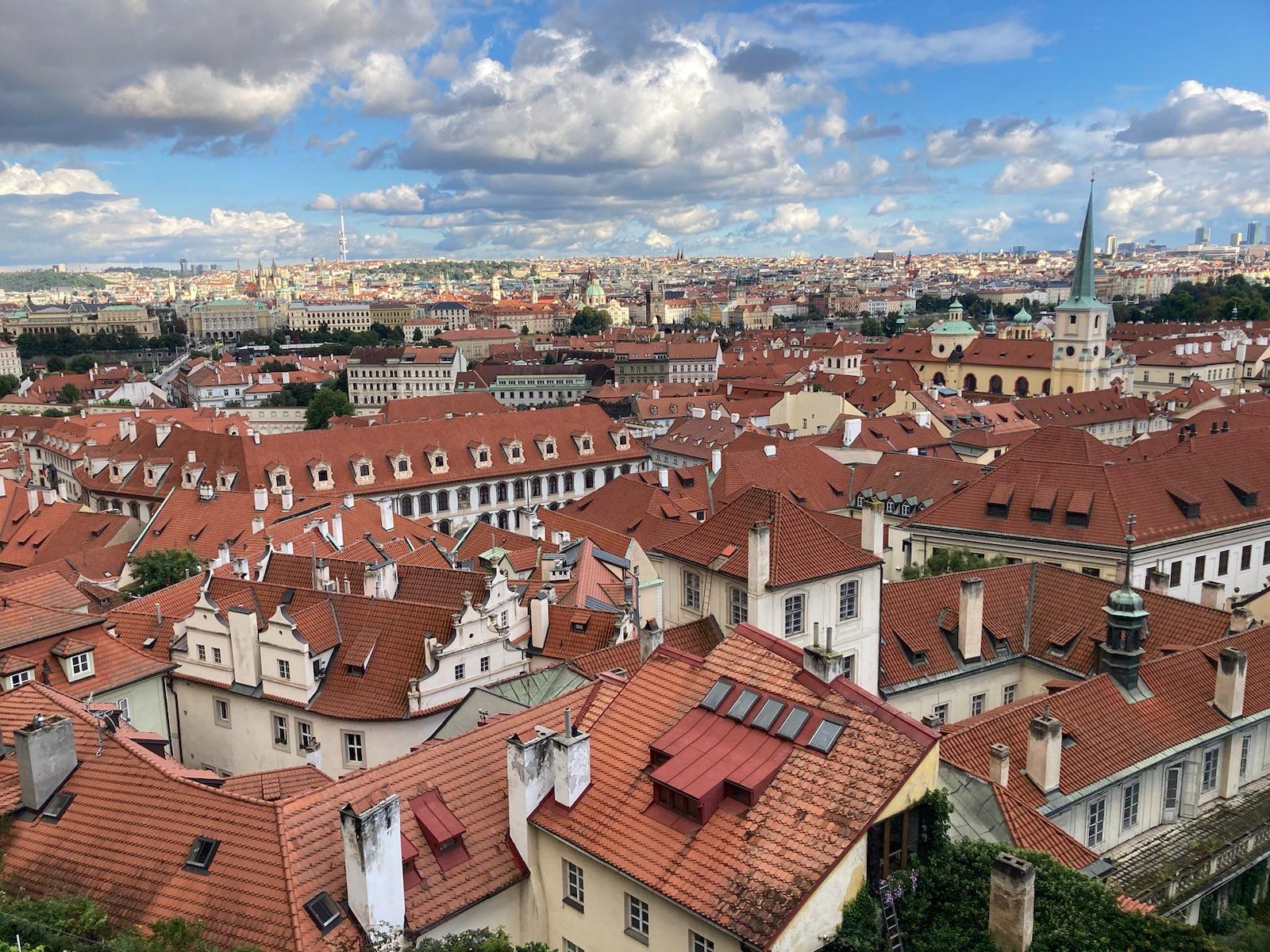 View overlooking the Malá Strana neighborhood and beyond.
When you reach Prague Castle and St Vitus Cathedral, you can either wander around outside for free, or you can pay about $11 to go inside, which I also highly recommend! The castle and cathedral are astounding, plus you can see the actual location of the Defenestration of Prague.
When you've wandered to your heart's content, you can either walk back to your hotel, or take one of the many trams (again, use the mapy.cz app).
The Globe Bookstore to the Red Stag Brewery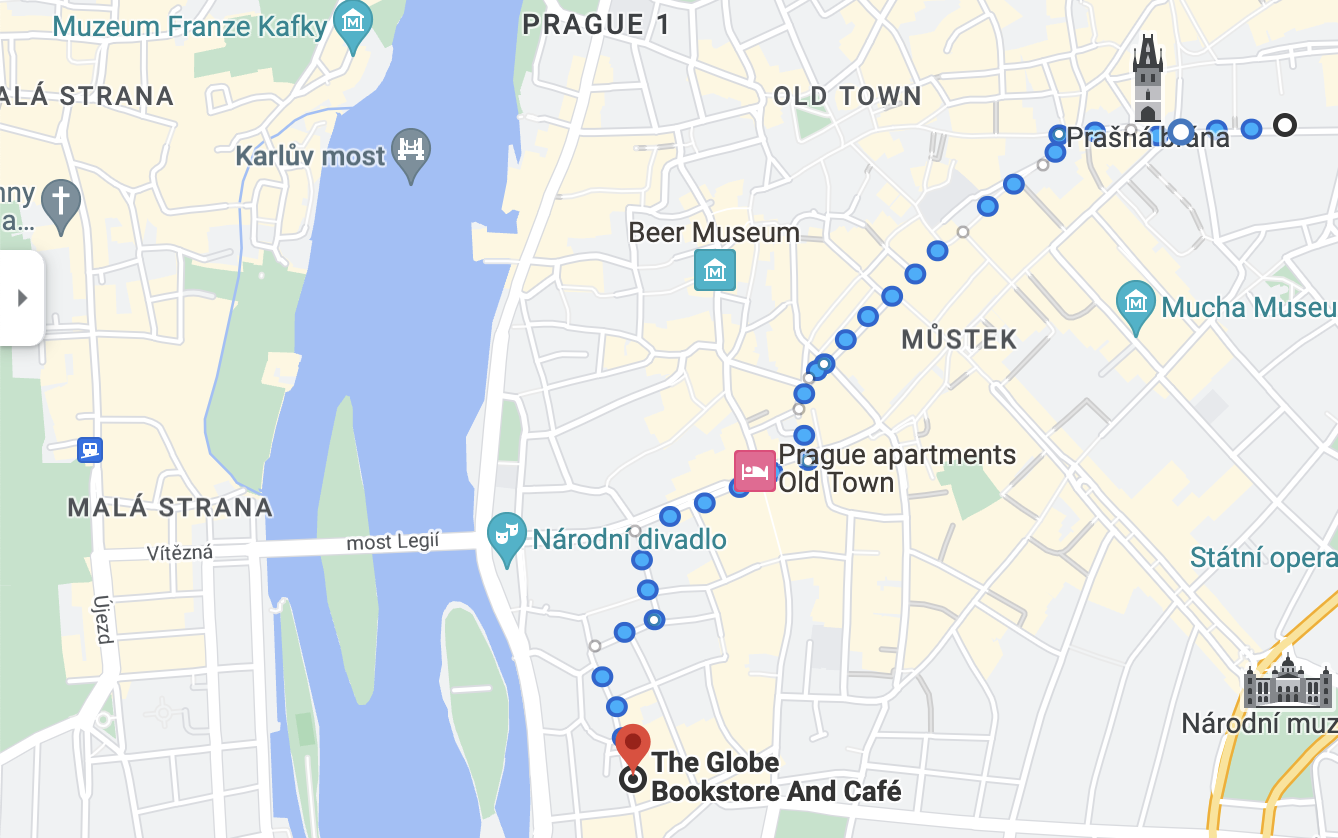 Just west of the Globe Bookstore and Cafe is a small island in the river with the bright yellow Žofín Palace. This island has an excellent viewpoint from which to take a nice wide shot of the Vltava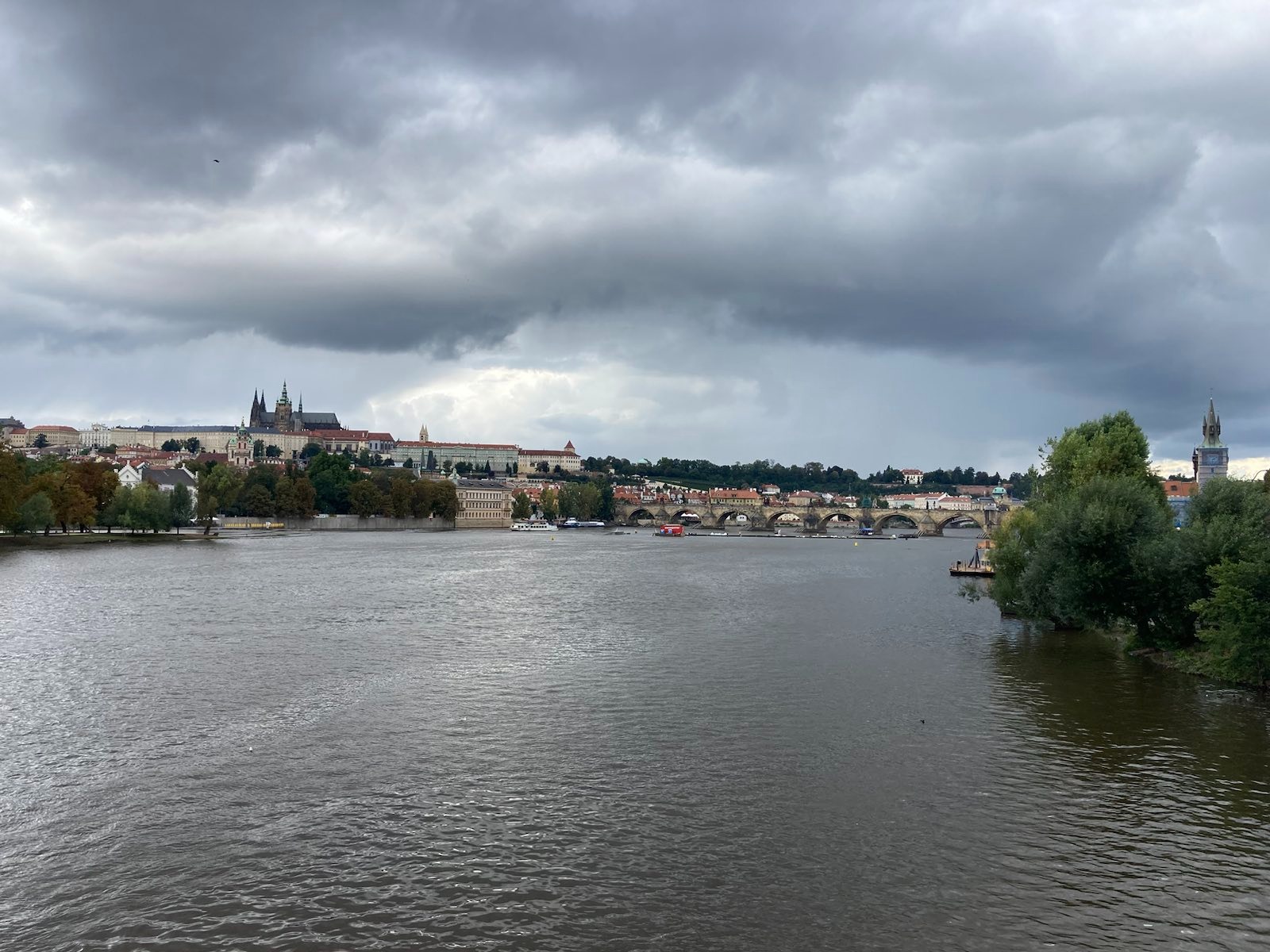 Nice view of the Vltava river with Prague Castle in the background.
After taking some photos, go grab a coffee and snack from the Globe Bookstore and Cafe. This is my favorite cafe in Prague; it has excellent coffee, vegan food options and eclectic art. It's also a two-storied bookstore with lots to look at. Protip: you can buy the same touristy books here that are in Prague Castle, but at a discounted rate.
When you begin the walk (use the bathroom before you leave!), be sure to take the route that goes via Prašná brána (Powder Tower). This imposing tower gate was originally built in the 15th century and is a sight to behold. Just around the corner from the tower gate is the Obecní dům (Municipal House) with an unmissable mosaic in front.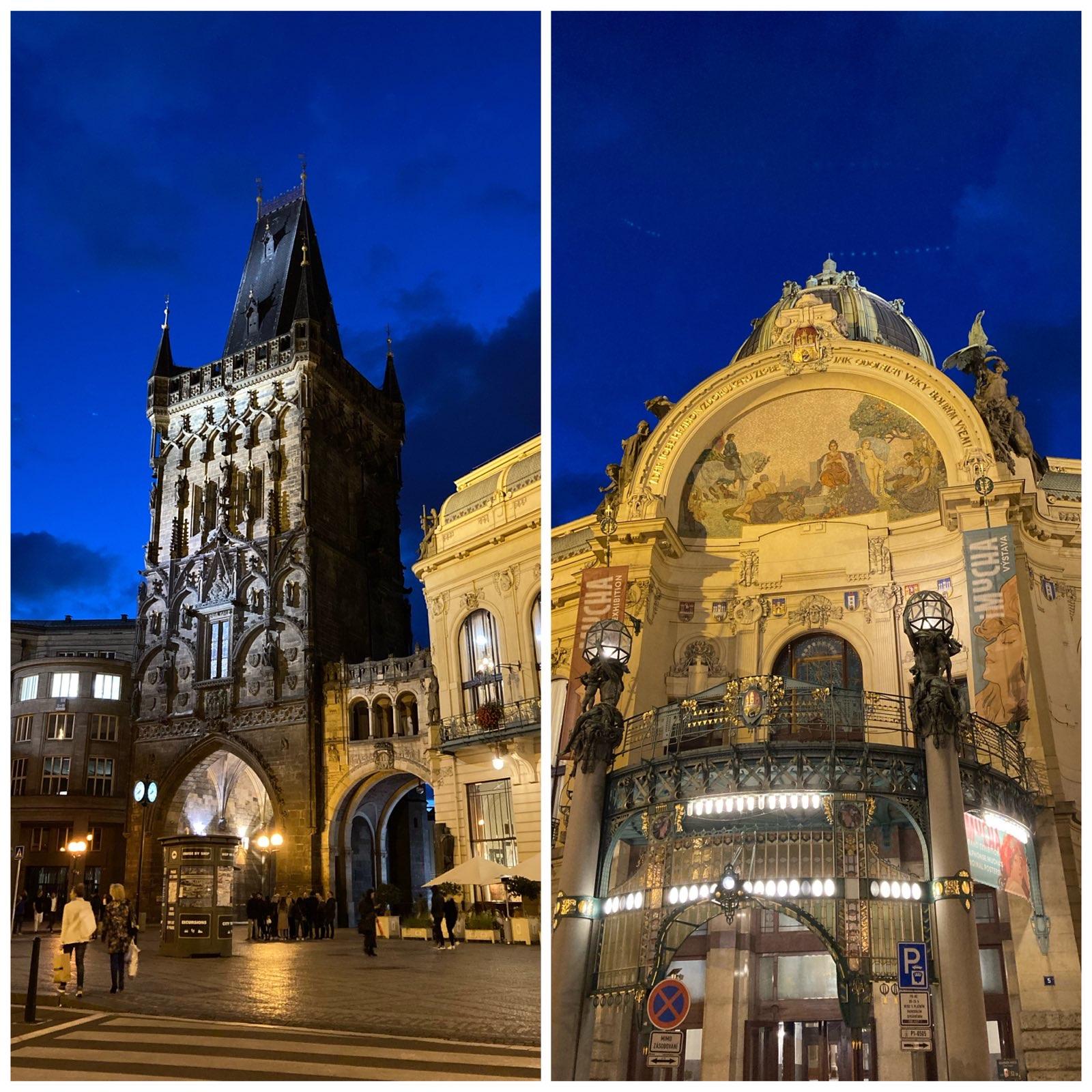 Powder Tower and Municipal House during an evening wander.
Eventually, you'll end up at Červený Jelen (Red Stag) which is my favorite evening restaurant in Prague. The Red Stag serves both meaty and vegan options and has outstanding local Czech beer. Their mushroom ragout is legendary... Reservations are practically mandatory (protip: always make reservations when eating out in Europe).
More Restaurants and Breweries
In addition to the Globe Bookstore and Red Stag, here are some additional restaurant and brewery recommendations:
U Pravdů
Excellent traditional Czech restaurant with classic Czech food and drink. We found this place completely on accident during our first trip to Prague and come back every time (it's also incredibly cheap).

Strahov Monastery Brewery
Modern Czech brewery next to a monastery founded in 1143. A little pricey for the area but has outstanding beer of several varieties. Food is just ok, but the beer is worth the trip.

Brevnov Monastery Brewery of St. Adalbert
Another place we found on accident. This one is a pretty far out of the city center but is easily reached by tram. The beer is traditional but unique for the city (as in, it's not Pilsner Urquell). I haven't tried the food, but the beer is first-class, and the monastery is beautiful.