Arriving in Germany
It's now mid 2021, and my wife and I have arrived in Dreieich, outside of Frankfurt, Germany. We took a cab from the airport to the long-term Airbnb rental we'll be staying in. When I tried to pay for the cab, the driver told me that he doesn't accept a card...this bears repeating, the airport cab I took doesn't accept card payment... No worries, there's an ATM around the corner, and I pay in cash.
We check in at the Airbnb, our host is very welcoming, and the place looks great (we stayed on the top floor).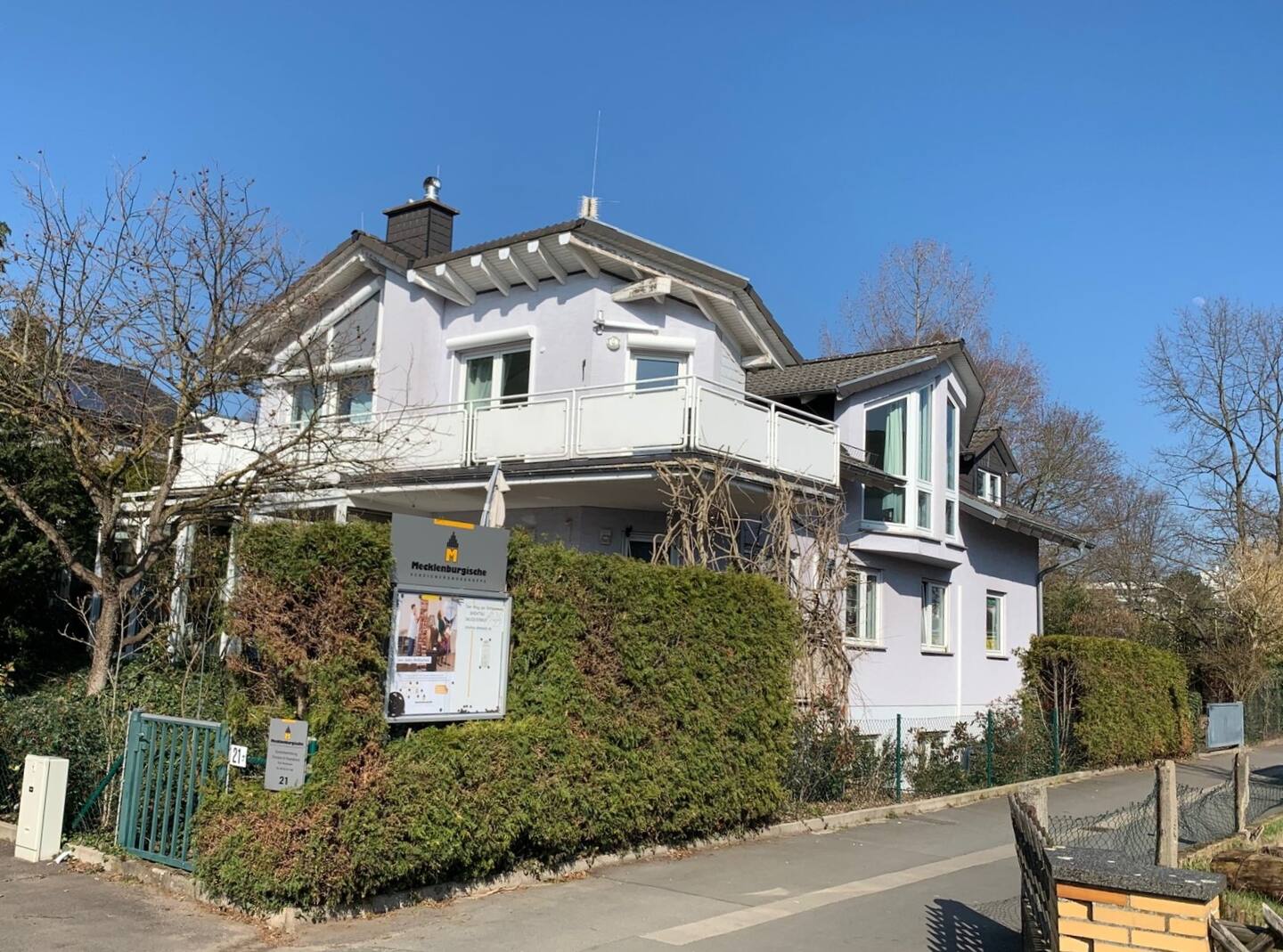 Next step is to get some groceries. We have an Aldi, Lidl and Real (pronounced "ray-ahl") nearby. Real is a large grocery store and can be likened to an expensive Walmart. It's a one-stop shop for all groceries, which cannot always be said of Aldi/Lidl. Anyway, we've been in Germany for all of 3 hours at this point, are feeling disoriented from the travel, have little concept of the language and decide to make a trip to Real. Immediately upon entering Real we start getting yelled at in German by some person standing at the front. I said "sprechen Sie Englisch?" to no avail, more yelling in German. Bewildered, my wife and I just walked out. Recomposing ourselves, we went into the Aldi across the street and bought some groceries.
My very caring Airbnb host checked in on us when we got back to ask how our grocery trip went (he had also made sure we had the proper masks before leaving because medical masks were required in any indoor space at the time). When we told him about the weirdness at Real, he explained it was Real store policy that all customers must use an Einkaufswagen (shopping cart) so that they can appropriately social distance themselves from others... We spent the next few days walking around Dreieich and trying to get familiar with the bus system, local shops, etc.
Starting Work
A few days after arriving, I start my new job in downtown Frankfurt. Wouldn't you know it, on my first day of work, the S Bahn is undergoing maintenance, so I can't take what would become my typical route. The entire commute took over an hour that day, and I was incredibly late for my first day on the job. This was also my first time walking through Frankfurt's Bahnhofsviertel neighborhood, which can be likened to downtown San Francisco, with druggies shooting up on every corner and an atmosphere of general debauchery (it's also the city's red light district). After going to the wrong building and being helped by a very nice janitor, I finally made it to work. My boss was super understanding, and he turned out to be an awesome guy to work for.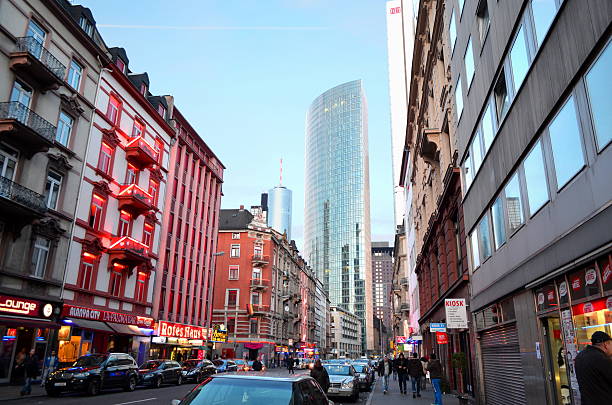 Bahnhofsviertel neighborhood
I received a fairly new Macbook with a German keyboard. As this was my first time typing on a non-US keyboard, with the "Y" and "Z" keys swapped and the "Shift" key being a different shape (among other idiosyncrasies), I had a hard time setting up my computer. The IT guy who has helping me saw my struggles and promptly bought me a US-layout keyboard and shipped it to my flat. The people here are awesome :). Because of the German government's COVID policies, I ended up working mostly from home but did come in a couple times a week to meet coworkers and hang out in downtown Frankfurt. A day ticket into Frankfurt from Dreieich cost about 10 EUR, but my work eventually provided me with a job ticket to cover transportation costs.
I have to talk about my commute...it sucked. It consisted of a bus ride to Neu Isenberg and then taking the S bahn into Frankfurt (Taunusanlage). There was a bus station right across from my flat, but I learned quickly that the buses are hardly ever on time. This creates a chain of events where if the bus is not on time, then you will likely miss your connection. Furthermore, if you miss your connection, it can be up to 30 minutes before the next one arrives... I don't know how many hours I spent waiting on buses and trains, but it was preposterous, and the buses/trains were late way more often that I could have imagined.
Anmeldung
One of the first things you have to do when moving to Germany is register your address. This is colloquially referred to as getting your Anmeldung, and it's also the method by which expats can get all of their important government documents. By law, you have to get your Anmeldung within 2 weeks of arriving in Germany. Unfortunately, "due to COVID," Anmeldung appointments in Dreieich were not available for months. Luckily, I knew this before I left the US and was able to schedule an appointment for about 3 weeks after I arrived (note that I made the appointment in April, and the earliest available date was late June...).
So, on the day of the Anmeldung appointment, we arrive 15 minutes early to the Bürgerbüro (citizens office). I had memorized a sentence in German to start the conversation: "wir haben einen geplanter Termin für Anmeldung." Of course, when I said this, the office clerk asked for more information in German. I replied meekly "sprechen Sie Englisch?" which was met with a resounding "NEIN" from the clerk. After lots of pointing and confusion, we were able to sign in for our appointment and were called back a few minutes later. We knew what documents to bring thanks to the help from my (again, awesome) Airbnb host; however, the clerk refused to speak any English to us. All we could do was point and use Google Translate, which was basically impossible due to the generally crappy network coverage in Germany. We were eventually told that our marriage license was not valid in Germany because...it wasn't in German, so we couldn't complete our Anmeldung...
So here I am, walking 1.5 miles back to our Airbnb. I've been yelled at by two German bureaucrats and then sent home. To further paint the picture, I've also been yelled at by a grocery store worker for not bringing a shopping cart into the store and the public transport I've been using is completely jacked. This is when the culture shock really set in. My thoughts were something like:
The Germans are a-holes
German efficiency is a myth
Why won't the Germans speak English to me??
I also recall becoming fearful of talking to Germans, even in the service industry. My wife and I really wanted to try the bakeries and cafes nearby, but we were so over being yelled at for not knowing the language. Nevertheless, we got over it, doubled down on learning the language (pro tip: learn the numbers ASAP) and embraced the suck (military-speak for charging forward when times are tough).
When we got back home, I searched the Frankfurt Expat FB group for marriage license translations and was able to find someone to create a certified (important!) marriage license translation for about 60 EUR. I was nervous that it would take months to get a new Anmeldung appointment but we managed to get one that was only a couple weeks away. All in all, about 1.5 months after arriving in Germany, we finally received all of our official documents and were properly registered.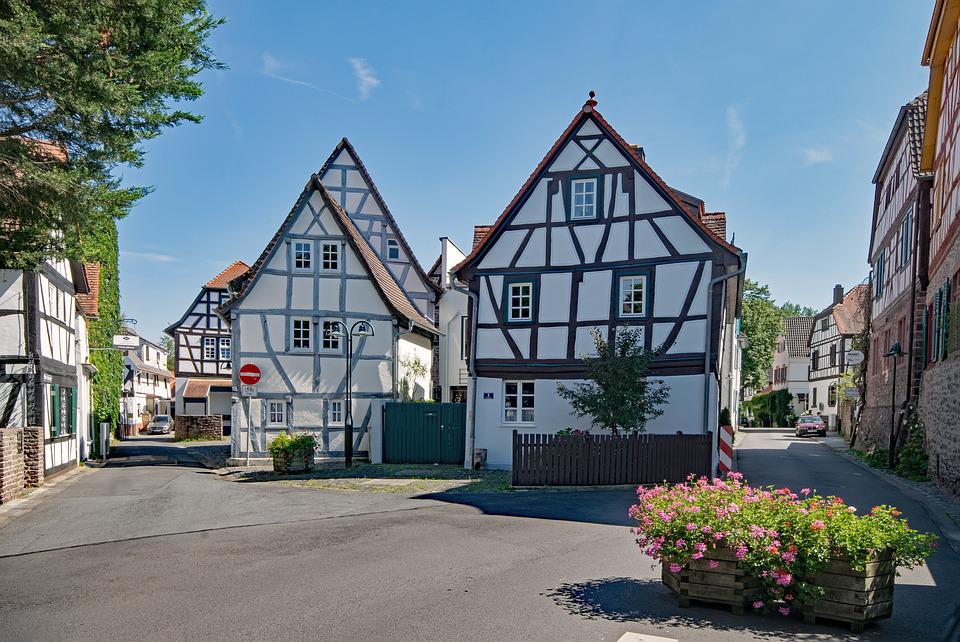 Street in downtown Dreieich
Bureaucracy Hell
I mentioned in the previous post that the German bureaucracy was actively angry and unhelpful. Here are 2 more anecdotes to support that claim, and my new claim that German efficiency is a myth.
EU Blue Card
I was able to get my EU Blue Card when I was back in the US, but my wife was not. We would've had to wait another 3-4 months for hers to come in, and, being US citizens, we had the option to apply for a spouse visa once we arrived in Germany. Also, my own Blue Card visa was only valid for 6 months, so I was advised to start the renewal process as soon as we arrived. I found a list of the required documents online, one of which was a pay stub from my employer. This meant that I had to wait at least a month before sending in the renewal application (ended up being longer because of the Anmeldung fiasco). As soon as I had all of the required paperwork, I sent in the application by email to the Frankfurt Ausländerbehörde. After two weeks, and no response from the Ausländerbehörde, I sent in the same email, this time translated into German (thanks to my company's HR). They respond and say that because we live in Dreieich, we have to contact the Offenbach Ausländerbehörde. So, over the next 2 months we sent the Offenbach Ausländerbehörde the same documents via email (in German) approximately 20 times...with absolutely zero response. I called phone numbers, sent the documents to other email addresses and went to my company HR many times for advice, but still, zero response from the Offenbach Ausländerbehörde. Now we are really in trouble because my wife is desperately trying to find work, but she cannot even start until she has her visa, and my own visa will expire before the end of the year.
Finanzamt
I received my first paycheck about a month after starting work and everything looked fine. I received my next paycheck a month later and something was definitely off...by over 1000 EUR. After a long talk with HR, we figured out what happened. When I initially signed all of the company HR paperwork, I said that my tax class would be III/V (ie. you work and your spouse does not). However, when I did the Anmeldung a few weeks earlier, it's German policy to change your tax class to IV/IV (ie. both you and your spouse work). In our case, the difference between the two tax classes meant my net pay was reduced by about 1000 EUR/month, and the Finanzamt decided to "correct" my previous paycheck by taking extra taxes out of my most recent paycheck.
To fix this, my HR contact recommended that I find the contact information of my local Finanzamt and send them an email. This wasn't too hard to find, and I sent them an email (in German). After a week, I got a response by post...as in, I sent them an email, and they responded with a physical letter in the mail a week later... The letter itself was completely unhelpful, so I went online and made a phone appointment with a note asking for help in English. During the appointment the Finanzamt clerk (unsurprisingly) didn't want to speak in English, so we got nowhere. At this point I have now gotten two paychecks that were light by 1000 EUR, and I'm at the end of my rope.
My work HR was reluctant to help because changing one's tax class is a "personal matter," but eventually they gave in and called the Finanzamt on my behalf. I ended up printing out a form, scanning it in and emailing it to the Finanzamt. My pay was finally fixed about 2 months later, and I was told I could get back the extra taxes I paid whenever I did my yearly income tax. So, I went about 4 months in total getting the wrong pay check, but then, for some reason, the German bureaucrats decided to smile upon me, and on my fifth paycheck they refunded me all of the extra taxes I had been paying. Thank God, because I really couldn't handle thinking about navigating the German income tax system (spoiler: it's surprisingly easy, but at the time, everything felt impossible).
This experience in particular really left a bad taste in my mouth. I was despairing that I couldn't get anyone to help, and the German bureaucracy is utterly impossible to navigate in English, and everyone was just so...mean! I'd been the in the country for a few months and was studying German every day, but I still couldn't speak well enough to communicate effectively with the bureaucracy. Also, the government websites are hard to navigate with lots of dead links and out-of-date information (not to mention trying to Google stuff in German!).
Thoughts
Work was going well, I enjoyed what I was doing, and I liked all of my colleagues (will write more about German work culture in a separate post). The rest of my life felt like a boxing match where I was repeatedly being punched in the face... A few more thoughts I was having at the time:
I recall feeling so helpless. I needed help to do literally anything, and some situations felt totally impossible (like with the Finanzamt). I had a heaviness hanging over me most days, and it really took its mental toll on me. This was a combination of adapting to a new environment, not receiving the correct pay and the feeling that things were just not going well. My wife was also very upset with the visa situation as she really wanted to find work.
Living in Dreieich we frequented no less than 4 grocery stores (including Asian and Indian shops). Going to multiple grocery stores was fun and exciting at first, but after a month, we realized it was a huge time sink. With no car, getting to all the grocery stores took hours. We made the best of it though and did enjoy the walking. Plus, the stores were so different than anything we had seen before, so it felt adventurous.
My wife and I were covered under the statutory government health scheme. One morning, my wife cut her finger while chopping fruit and nearly fainted as it was pretty deep. I recall laying her gently on the floor, wrapping her finger and wondering how in the hell I was supposed to get professional medical help if it came to that (and will they even speak English to me??). I started googling for the nearest hospital. I knew that in America I would just dial 911, but that it could cost big money if an ambulance came. I didn't have a car...so what do we do?? Anyway, she was fine, just had a nasty cut on her finger, and that day I asked a bunch of my German colleagues what to do in various medical situations.