Finding a Flat
We only rented our Airbnb for a little over 3 months. The plan was to get acquainted with Frankfurt and start applying for flats ASAP. The rental process in Germany is...weird. Landlords will want all of your personal information including photos of your passport/visa, salary information, job contract and whether or not you own a musical instrument. Filling out an application for a flat feels like applying for a job. There are a ton of applicants for any and all flats, and the landlord gets to choose based on whatever their feelings are that day. Nevertheless, we applied to about 20 flats around the Frankfurt area. We targeted places that were mostly outside of the city center as your Euro/m2 goes way further, and there is less competition. Many of the flats we visited were less than ideal and very expensive. Furthermore, most flats we applied to never contacted us. Flats in Frankfurt go very quickly, and you have to move fast. As in, if you are selected, you have to make a decision in a couple of days if not sooner. We did get contacted by a few landlords and were able to make viewing appointments.
S Bahn Tour of Frankfurt
We could only view flats on Saturdays as I had to work during the week. The first flats we saw were out in Bad Soden, which is about 1.5 hours by S Bahn from Dreieich.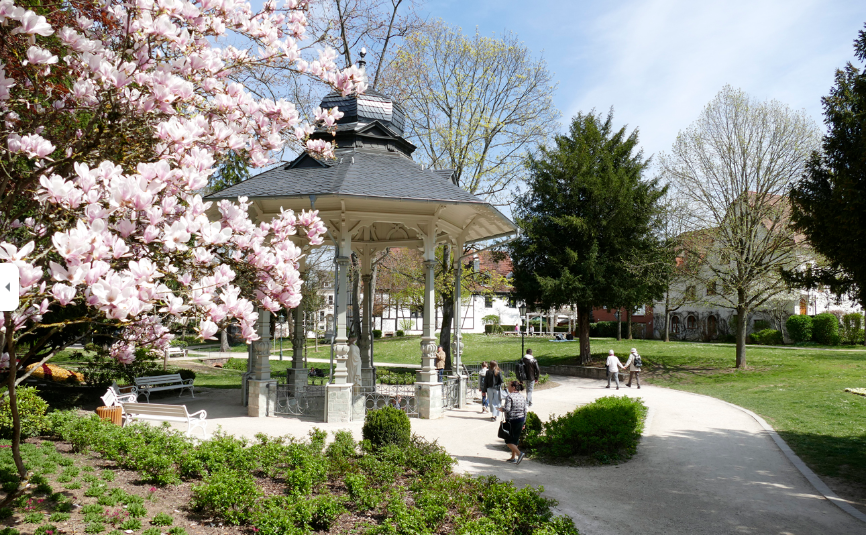 One of the many parks in Bad Soden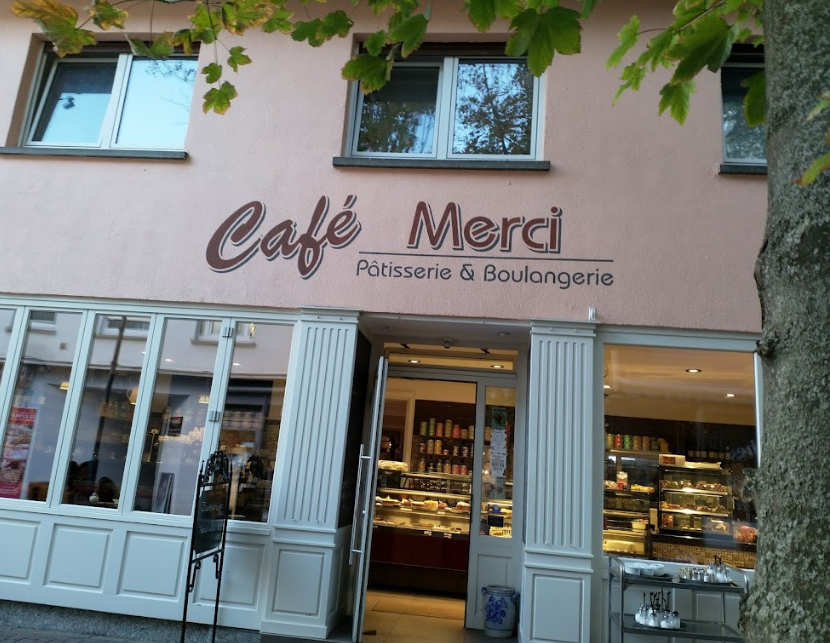 Cafe Merci, a popular, yet quaint, cafe
Bad Soden is gorgeous. Before our viewing appointments, we were able to walk around the town center and look at all the cafes and parks. The first flat we saw was a nice 2-story terraced house, but the owner was rude. Once again, our English was refused, but we were able to make out that the apartment did not come with an outdoor area (despite the huge yard around the flat). This one was a no-go for us. The next apartment we saw was a 20 minute walk uphill from the center of Bad Soden. This time a real-estate agent met us. She was very kind and was happy to speak in English for us. The apartment had a nice, bright layout and had a great view; the only downside being the long walk up the hill from the train station in Bad Soden.
Next, we trained back into town to Frankfurt's Westend district. We saw one apartment here that was smaller than the ones in Bad Soden for the same price. It was only a 15 minute walk to my work, which was nice, but the flat itself was just okay. We saw one more flat in a neighborhood just north of the city center. Actually, this one was a standalone house, not a flat, which was exciting to see. However, the neighborhood had MS-13 gang signs around, and the house was built pre-WWI, so we knew it was going to have problems (you could tell just by looking at it).
The flat on the steep hill in Bad Soden was the clear winner in our minds. Despite the long commute, it was surrounded by nature, and the view was just gorgeous; luckily, we ended up getting it!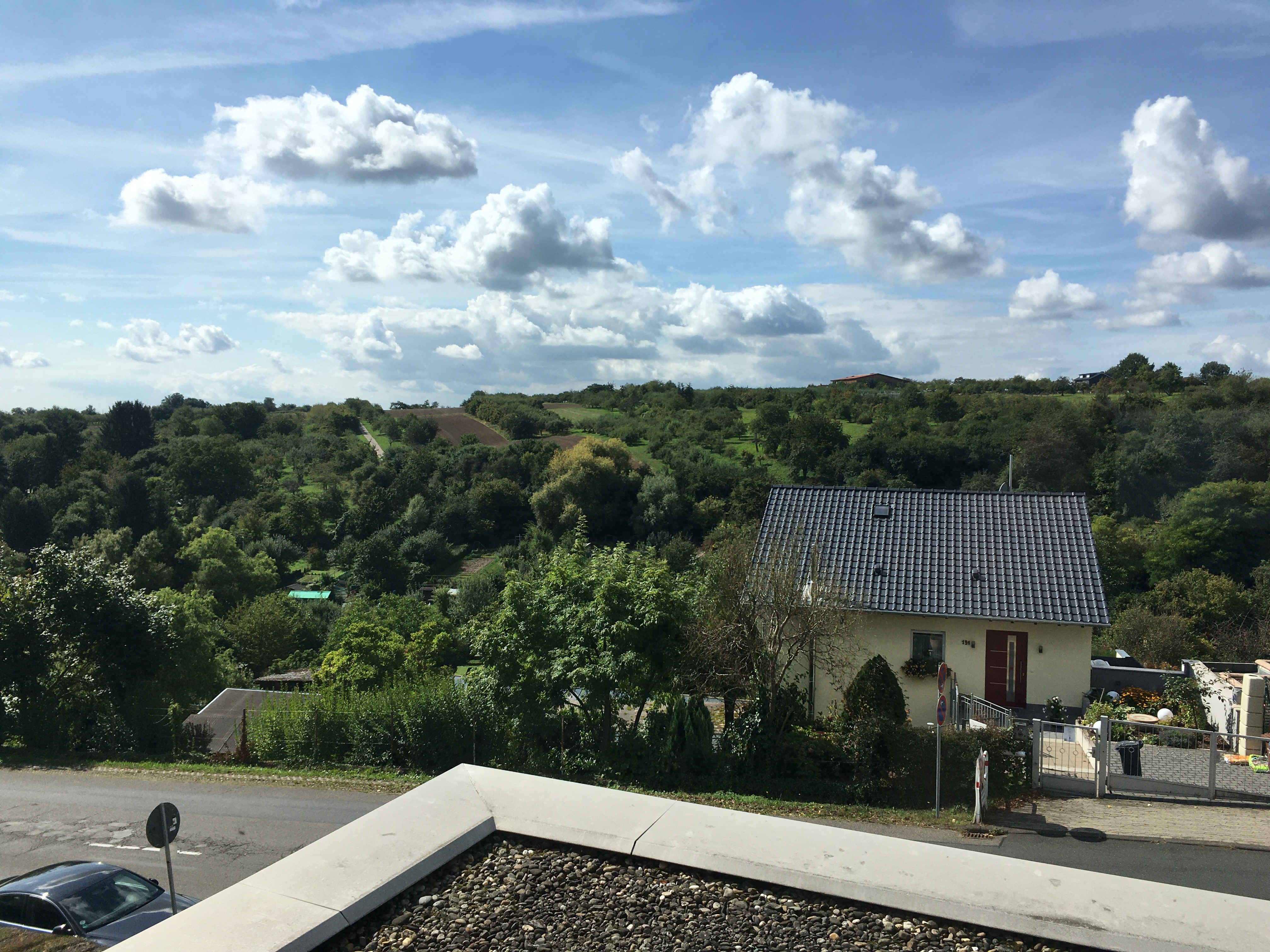 View from our flat in Bad Soden
One more note about this S Bahn tour of Frankfurt. On our way back to Dreieich, something happened with the train, and we ended up sitting in a hot train on the middle of the tracks for about 30 minutes. Then, the conductor came on the intercom and quickly said something in German that we didn't understand. Next thing we know, we are moving backwards, and a quick check of the RMV app showed that all S Bahns in the area had been canceled... We now have to figure out how to get back home. Luckily, the RMV app is pretty good about rerouting when this sort of thing happens; unfortunately, the trip home took us about 3 hours that day...
The Move
I left the military in June of 2021 from my final duty station in England, and when you leave the military you get one final move paid for by the government. At the time, I knew we would be moving to Germany, but I didn't have an address to give the movers. So, the military, in its infinite wisdom, decided to store our household goods back in the US in Virginia. This meant that they had to ship our stuff from England back to the US, and then, whenever we could provide them with an address, they would ship it back across the ocean to Germany. From experience, a single trip for cargo across the Atlantic takes at least 3 months, including customs, land travel, etc, so I knew that getting our stuff was going to take a while...
In August, after we signed the lease for the flat, I called the military moving company and told them we have an address to ship our household goods to. They informed me that our shipment would arrive either late October or early November... To be clear, here's a timeline of what we are about to go through:
June 2021: arrive in Germany, stay in Airbnb
August 2021: sign lease on apartment in Bad Soden
September 2021: leave Airbnb and move into flat in Bad Soden
???: receive household goods
So, here we are, with only a few suitcases of clothes, and now we have to leave our Airbnb and live in an empty flat for 2 months... I was furious. I called every person in the moving company trying to find someone to help us. The issue was that the moving company only ships things a few times a month, and they were experiencing delays. I ended up calling someone out in California, who told me to call someone in Virginia, who told me to call someone in Alabama (because, of course, no one knows how to do their job and there are at least 3 different contractors involved in this process). Anyway, I ended up getting the ship date moved up by a week, which is better than nothing I guess.
Now we have to figure out how to live in a shell of an apartment until our stuff arrives. The alternative was to keep staying in the Airbnb, but we really couldn't afford to pay double rent at the time. Because our new flat had a nice terrace, and we knew we would eventually buy patio furniture, we decided to go ahead and buy patio furniture and just use it indoors until our actual furniture arrived. We ended up buying 2 chairs and a small table to go in our living room, as well as some barebone essentials (plates, towels, blankets, pillows, small mattresses, etc.) to go in the kitchen and bedroom. Luckily I could go to the office to work because I didn't have a desk at home (not to mention our internet wouldn't be active until November...more on that later). Honestly, it was a sad and pathetic existence. Our landlords (very sweet old German couple) were visibly mortified when they saw our barebones setup.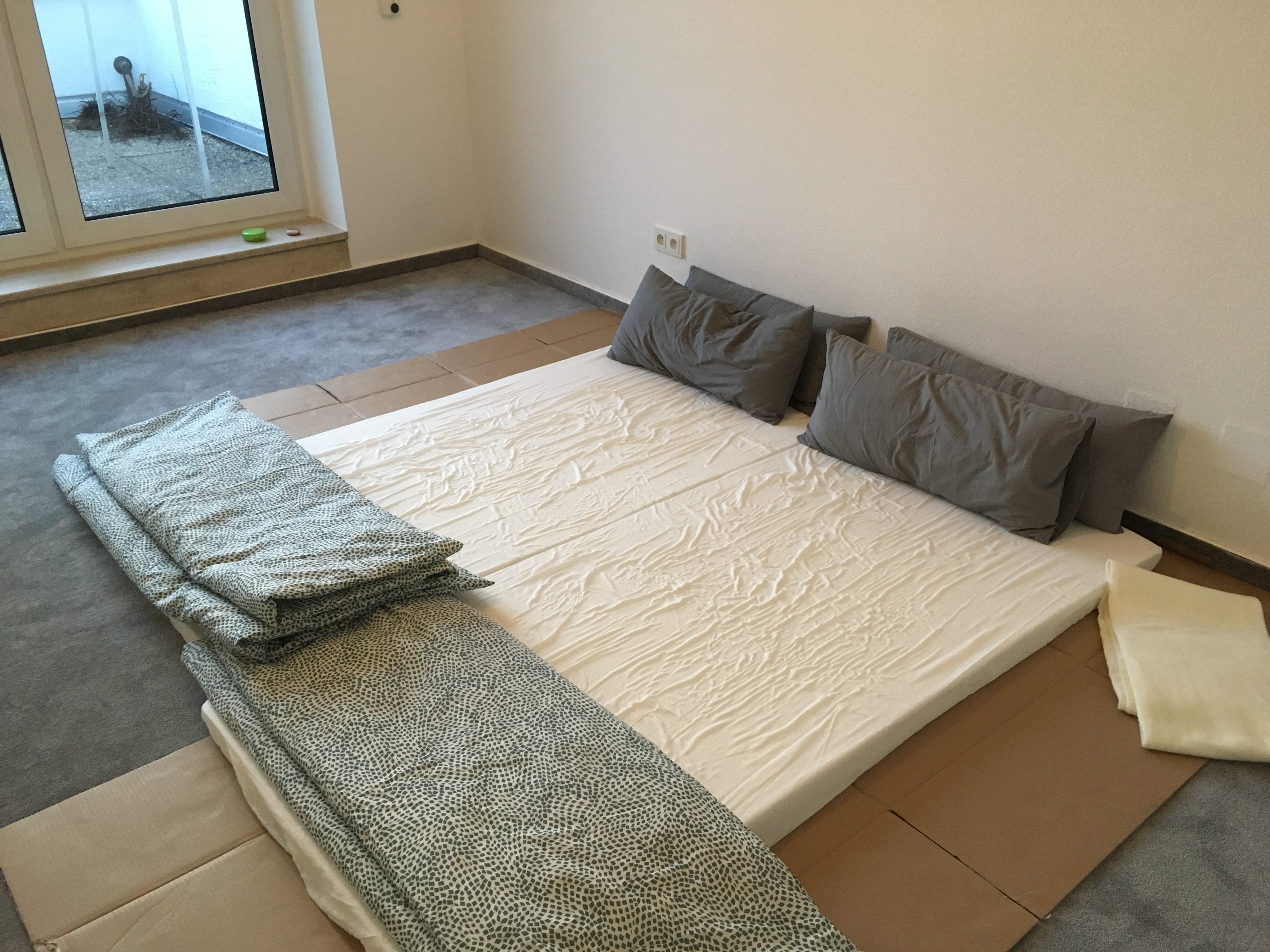 Our sleeping situation...yes, it was uncomfortable...
I have to talk about some other painful logistics here. We had to figure out how to order heavy things, like patio furniture for our living room, and then get it from Dreieich to Bad Soden, which was 1.5 hours by train and included multiple bus rides. The big question was, do we ship things to our Airbnb in Dreieich or to Bad Soden? If we ship to Dreieich, we have to carry really heavy things on buses/trains with multiple changeovers; if we ship to Bad Soden we have to pay to get out there (my jobticket did not cover this yet) and then wait all day for the shipment to arrive. We ended up doing both. We sent the heavy lawn furniture to Dreieich and carried it all the way to Bad Soden (3 hour and 30 EUR round trip...). We also ordered the barebones living essentials from Ikea and sent them to Bad Soden. My wife was the one who had to go sit in Bad Soden all day and wait. Nevertheless, we had our barebones setup and would have to suck it up until our household goods arrived.
To mitigate some of the pain around living in an empty flat, we decided to do a cycling trip down the Mosel from Metz to Koblenz. This was a fantastic idea, and the trip warrants its own post. But when we got back to the flat, it was back to barebones living, and it sucked. Our furniture ended up arriving mid-October and we were incredibly grateful to sleep on an actual bed again.
The F*cking Internet...
I had heard from all of my coworkers that getting internet in Germany would be a challenge, but even my years of military training could not prepare me for the pain and frustration that was about to occur.
In early July, literally the day after signing the lease for the flat, I signed up for internet via 1und1, a reputable ISP in Germany, and the ISP that had previously serviced the flat I was moving in to. I received a few automated emails from them saying that the internet connection would take longer than usual to set up, but I gave them the benefit of the doubt and assumed they were operating in good faith. After a few weeks of getting the same automated emails, and seeing no progress on getting the internet connection, I called the 1und1 support. Of course...they refuse to speak English to me. My coworkers gave me the advice to keep calling until I can get an English speaking representative. On average, it took about 3 different calls before I could get someone who would (not could...) speak English. When I finally spoke with someone, they basically just repeated the automated email I had been receiving and then hung up on me. I also tried to go to the 1und1 store inside of the local Saturn (electronics retailer), but there were never any representatives there, literally just an empty counter. I'm freaking out now because it's been almost 2 months, and we have to leave our Airbnb and move into the new apartment that doesn't have internet (and has crappy cell phone coverage).
By mid September, we had already moved into the flat, and I was fed up with 1und1 and decided to cancel the contract, which I was able to do over the phone (after calling at least 3 times). Next, I decided to give O2, another large ISP, a shot. One thing to mention is that the internet contracts in Germany are insane. Most of the contracts are for a 2-year minimum, and the ones that aren't have a very low data cap every month. O2 was unable to tell me if they could provide me internet through the copper lines but did sell me on a SIM card that I could insert into a router. I went the SIM card route and was disappointed with the abysmal 2MB connection. Obviously this wasn't going to work when trying to work from home. Luckily, because I was still in the O2 trial period, I was able to cancel that contract as well.
Now its late September, and we decided to try Telekom, which is the largest ISP in Germany and the one that owns the majority of the underground copper lines. I went to the Telekom shop at the local mall and, again, they said they didn't know if they could provide us internet. This is f*cking ridiculous... Three different ISPs have said "we don't know if we can get you internet." It is 2021, in Frankfurt, Germany, and the three largest ISPs have said that internet "may not be possible" at my address. Again, I had spoken to the previous tenants of the flat, they obviously had internet, and they had gone through 1und1 without issue. What. The. Hell!! I was at the end of my rope. The Germans had made it clear that they didn't need my business or want my money.
Anyway, we convinced the guy at the Telekom shop to send a technician to our house. When the date/time came for the technician to come, he never showed up... We called the Telekom shop back and the representative then called the technician to find out what happened. Apparently, the technician's computer had said that internet was not possible at our flat, so he just never bothered to show up. After telling us this, the Telekom rep said again, "I don't think internet is possible at your flat."
I was livid at this point. I felt so utterly helpless. People wouldn't speak English to us, they would hang up mid conversation, and we couldn't get service for a basic utility. My wife had been applying to many jobs at this point and finally got an interview over Zoom. Unfortunately, because we didn't have internet and the cell coverage was so crappy, she had to reschedule the interview. The company didn't like this and they ended up canceling the interview entirely. She was devastated. She had applied to over a hundred jobs at this point, and the one lead she had just canceled. We also tried to get into the local library to use their internet, but, due to COVID, they were closed.
It's now late October, and I'm completely desperate at this point. I made an account on the Telekom forums and posted a message (in English) begging for help. Not 2 hours later, I received a phone call from a Telekom rep. They had seen my message on the forum and were more than happy to speak English and help me out. They said there was a error in the Telekom database and that they had just corrected it, and they would send a technician out in a couple of days. Furthermore, this very amazing and kind Telekom rep said that they would follow up and make sure our internet was working. Wouldn't you know it, this fixed everything... The Telekom technician came by the house at the very end of October and hooked up our internet connection. We had to purchase a separate modem (didn't have a router/modem combo), but finally, WE HAD INTERNET...
Spoiler alert, this was the beginning of the end. I was so angry with the Germans and their stupid, backwards perspective on customer service and technology. To recap, over the course of 3 months I went through 3 different ISPs and each one told us that internet was not possible in our flat...in Frankfurt, Germany...in 2021... This meant that every day I had to take the long commute from Bad Soden to Frankfurt and sit in an empty office while most of my coworkers worked from home, and my wife lost her single opportunity for a job interview. This is not an isolated case either, my coworkers all said that getting internet in Germany was very difficult; also, here's more corroborating evidence from an expat in Berlin. What really got to me was the immovable unwillingness of customer service reps to help. Whether I went to an ISP's shop in person or called on the phone, the people were just rude, incompetent and unhelpful. I don't understand this...we were as patient as possible and tried to be very nice about the situation, but the customer service was just laughably abhorrent. Anyway, after a very stressful 3 months, we were overjoyed to have our 50MB internet connection.